YOU WILL LEARN HOW TO PROFIT WITH FIBONACCI DAY TRADING!
Proven stability, Nexgen's plan and software released to traders in 1999
Full working version of software installed, FREE OF CHARGE to evaluate for two weeks
Learn highly profitable, low risk Fibonacci trades for use in any market

Free access to our online trading /educational room to learn the trades live as they happen

Unparalleled educational support before during and after your demo

No credit card required to sign up, you are under zero financial obligation during your demo
Together we will prove it works for you!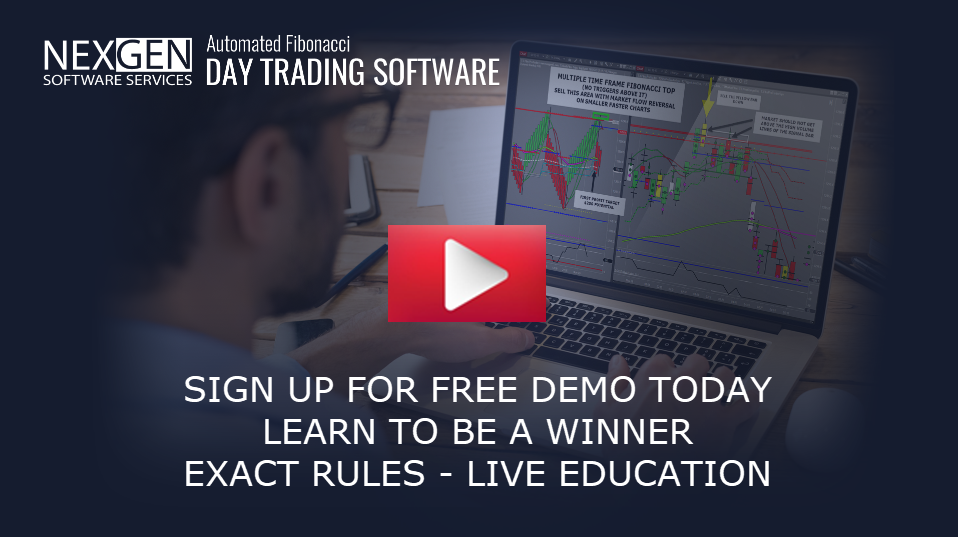 Nexgen Software has automated Fibonacci technical analysis into a software program that is extremely powerful yet simple to use. Nexgen's Fibonacci areas predict market turning points and when used with our trading plan, give our users very well defined, high probability trade setups.
Nexgen offers lease and purchase options and the demo is free. Sign up today!
Subscribe to Software (all inclusive software, room and tech support)- Purchase options available – ask sales person
1st 6-months($5000) then $500 monthly
Signup for Free Demo
Witness the power of our Fibonacci based setups today on live market data
Sign up now and witness the accuracy and profitability of our complete line of automated Fibonacci software.
testimonials
"I have been using the T3 indicators since May 05 and can now honestly say I couldn't trade without them. They are the absolute key to all my trading decisions"
"I purchased T- 3 Fibs Pro Trader in August 2005 and started trading live and have reached what I consider very successful as I am at a level of income trading."
"I have a job so I can't trade a lot during the week. But I'm close to retirement and invested in your software to supplement my retirement income. Supplement? Holy mackerel. How about triple it? "
"At my 2 yr anniversary as an owner of Nexgen software. I use the software to successfully trade the Russell ,Feeder Cattle and Natural Gas. I also use the software to manage my stock portfolio. "
"My Trading Skills have been greatly enhanced due to this software… Nexgen was supportive through the learning process and trading is now shooting fish in a barrel using this software."
"On average I pull about 4-5 points a day, trading about 4 hours a day. 2 hours at the open and 2 hours at the close. T-3 is a great supplement to my day job."
"I have owned your T3 Fibs software and traded successfully for 5 years. I find that the program, particularly in the easy to read chart form delivers tradable setups with clear targets. "
"I have dealt with other programs over the years, but Nexgen is the only company that will spend the extra time with you to make sure that you meet and exceed you financial goals each day. "
"This is hands down the best educational and training software on the market and I have purchased multiple platforms over the years and nothing holds a candle to Nexgen's T3 and I use it every day. "
"It took only a short time to see its efficacy and I bought it. Compared to the tremendous cost losing Nexgen was cheap. John Novak and his staff are committed to constantly refining and perfecting a technical analysis a trading system that is the epitome bar none. "
"If you want to be a successful trader this is your vehicle. The inventor and CEO, John Novak, is committed to your success as a Nexgent3 trader. "
"I have been using T-3 Fibs ProTrader for over 10+ years and it is the best Fibonacci-based software I have used!"
"Everyone at Nexgen helped me, starting with the CEO, John Novak. John is determined to make the best trading software in the world, and have the best staff possible to teach you how to use it."